At last year's Autodesk University (AU), the company's yearly AEC technology conference, Autodesk announced the release of Autodesk Construction Cloud, which unified their in-house and recently acquired construction software under a single unified platform. Announced today at AU Virtual, Autodesk will be expanding the Construction Cloud to include 3 new products: Build, Quantify, and BIM Collaborate.
"Almost a year ago we introduced Autodesk Construction Cloud, sharing our vision for the most powerful and complete portfolio of construction management products. The new products we announced today represents a huge milestone for connected construction, with Autodesk Build providing an entirely new approach to project management," said Jim Lynch, vice president and general manager of Autodesk Construction Solutions. "We're continuing to deliver on our promise of helping builders across the world catalyze their digital transformation and make construction more predictable, safe and sustainable."
Each of the 3 new products (Build, Quantify, and BIM Collaborate) will also include Autodesk Docs, Insights, and Administration to help users manage data and project administrative tasks.
Build will combine many of the existing features on BIM 360 and PlanGrid to provide an all-inclusive project management experience under one roof. The product will include the features you would expect from a project management platform, including cost budgeting, change orders, document storage, issue creation, RFI submission, meeting minutes, photos, and drawings markup.
Mobile access to construction documents is a pillar of PlanGrid's capabilities and that will continue on Autodesk Build, with the creation of the PlanGrid Build Mobile App. Users on the app will be able to create RFI, track issues, and view/redline drawings.
It's important to note that current customers of either PlanGrid or BIM360 will not be forced to use Build when it's released and that Autodesk plans to continue to invest in both of the platforms. The company expects that many customers using those other platforms will be eager to make the switch, however.
Expected release: early 2021
Quantify will allow users the ability to perform cloud-based 2D and 3D takeoffs within the platform. Items can be counted, measured in length, area, and volume, and highlighted in different colors. The cloud solution will allow multiple team members in different geographical locations to work on their estimate at the same time, increasing transparency and collaboration.
Expected release: early 2021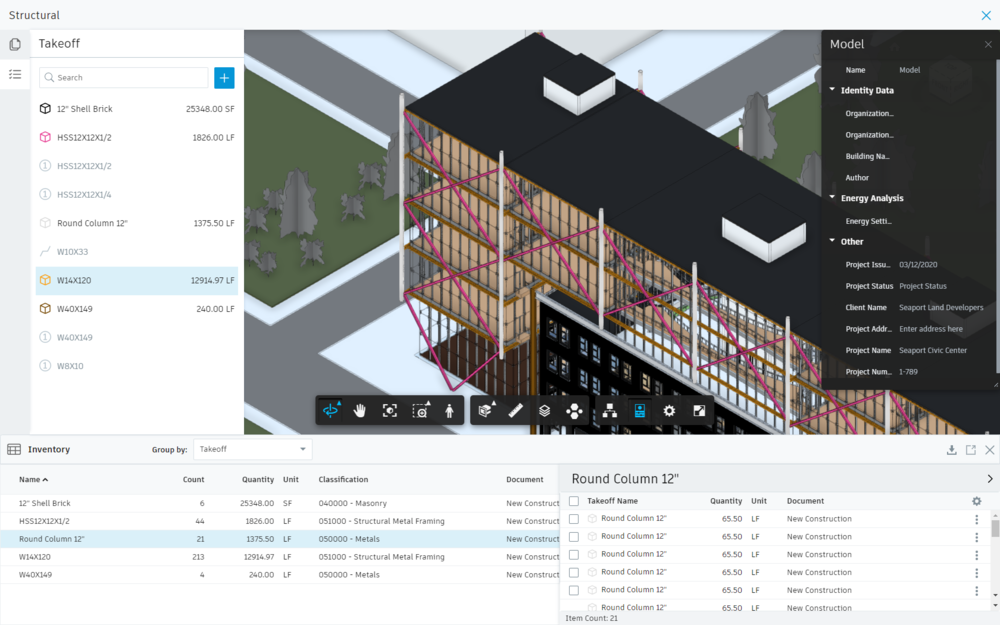 BIM Collaborate will also offer a cloud based solution for accessing, reviewing, and collaborating on 3D models. Features of the product will include project timeline, aggregated model viewing, change review, clash detection, and issues management.
In addition, Autodesk will also be offering BIM Collaborate Pro, which will offer Revit Cloud Worksharing, Collaboration for Civil 3D, and Collaboration for Plant 3D.
Expected release: early 2021