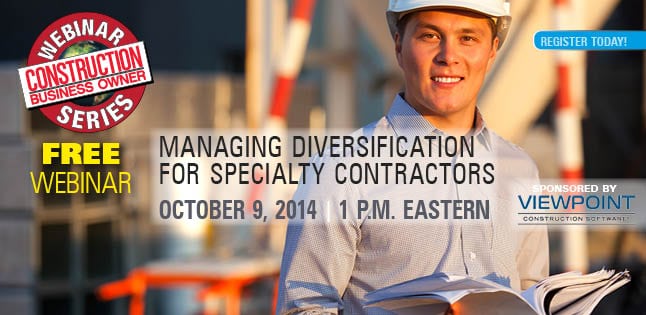 Construction Business Owner, the leading business management magazine for construction business owners, is pleased to announce a free webinar presented in partnership with Viewpoint.
The live online event, "Managing Diversification for Specialty Contractors," will take place Oct. 9, 2014, at 1 p.m. Eastern. Registration is free at constructionbusinessowner.com/webinars.
The discussion, led by Christian Burger of Burger Consulting Group, will cover:
Developing a diversification strategy through integration
Leveraging resources
Centralized versus decentralized services
Marketing and messaging
Cross-selling
Customer management and retention
Accountability
Field/Mobile solutions
Information/Operational metrics
Training
The webinar will include a 45-minute presentation by Burger, followed by a 15-minute question and answer section.
For more information, visit constructionbusinessowner.com/webinars.
About the Presenter
Burger is a principal of the Burger Consulting Group, an independent consulting firm based Chicago. The firm concentrates exclusively on IT strategy and tactics for the construction industry. Burger has worked with contractors for more than 20 years on software selections, implementation management, IT strategy and planning and evaluation of current systems. He started his career in construction at FMI as a senior systems consultant. After eight years, Burger went to work as a client manager for JD Edwards & Company. In July of 1996, he launched the Burger Consulting Group.
About Construction Business Owner Magazine
Construction Business Owner launched in August 2004 as a different kind of construction magazine, filling an industry need for business management knowledge that is of real value to construction company owners. CBO is designed to help leaders to run their businesses better. Articles include information to assist in decision making both in the office and in the field. Topics range from sales and human resources, to finance and equipment, to regulatory issues, bidding strategies and more. CBO has a BPA-audited circulation of 40,000 construction company owners, presidents and managers. The magazine is a Cahaba Media Group publication. For more information about Cahaba Media Group, visit cahabamedia.com.