The construction industry is constantly changing and the top construction blogs help to bring you new developments and updates. In many cases, these websites take team of people to run, develop and bring new content. Below are our list of the top construction blogs for 2020:
It's only fitting to provide some recognition to the hard work that goes into creating the content we all love to read.
This year we've broken our top construction blogs into three main categories:
Construction Marketing and Business Management Blogs
Construction Industry News Blogs
Construction Techniques and Technology Blogs
Construction Company Blogs
Construction marketing and mangement is at the core of every construction business. These two components determine how your building is run and how much business your company gets. Learning new techniques and styles can help to improve your construction company. Which are the best construction marketing and business management blogs?
The top construction marketing and business management blogs are:
Construction Marketing Ideas
Construction Executive
Construction Business Owner
We've broken each of the above best construction marketing and business management blogs down below for you:
Construction Marketing Ideas
Our industry is great at building things and getting our hands dirty but when it comes to advertising and marketing often times we come up well short. Construction Marketing regularly writes articles on things like putting proposals together and how to get new clients.
Construction Executive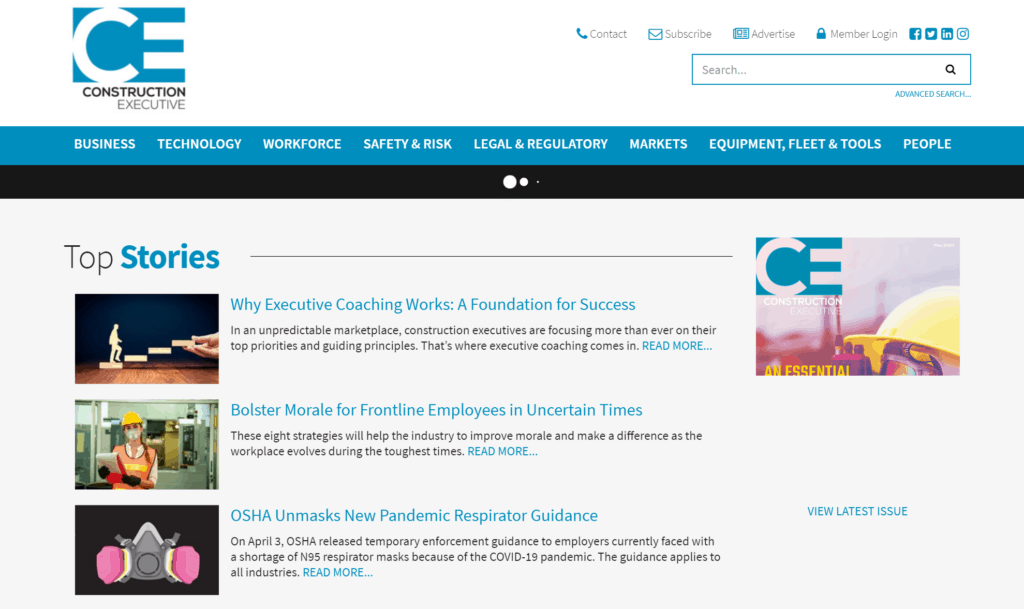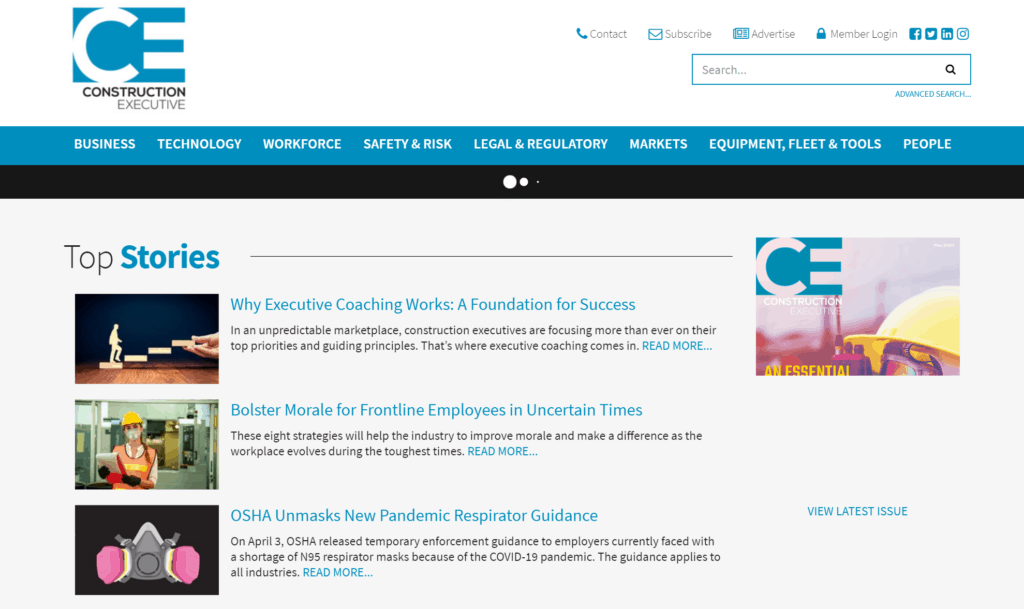 Construction executive is prepared in part by actual construction executives and provides some great insight into the forefront of the industry and new emerging management practices. If you want to stay on top of leadership make sure to check these guys out.
Construction Business Owner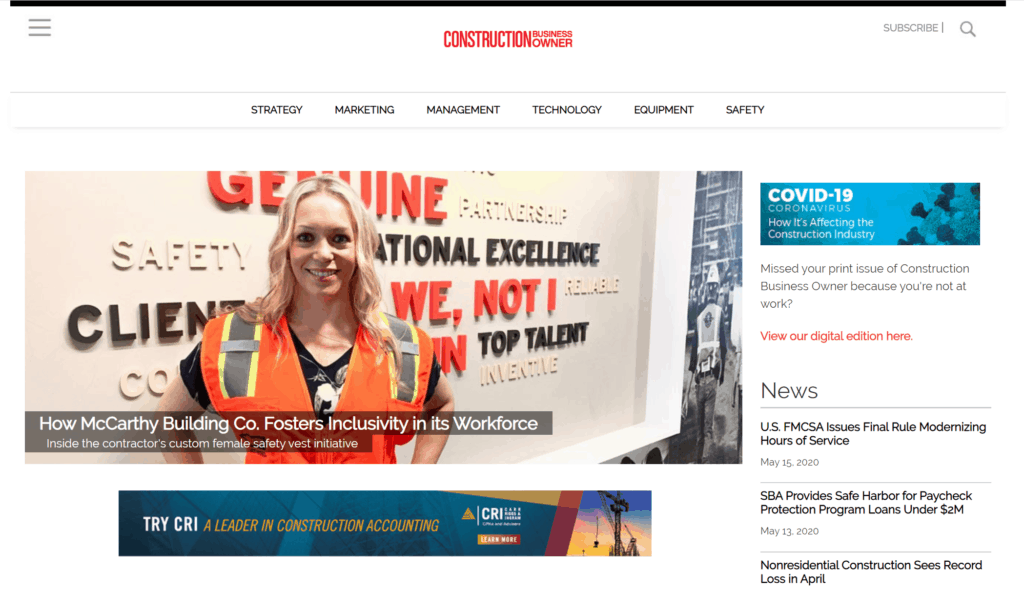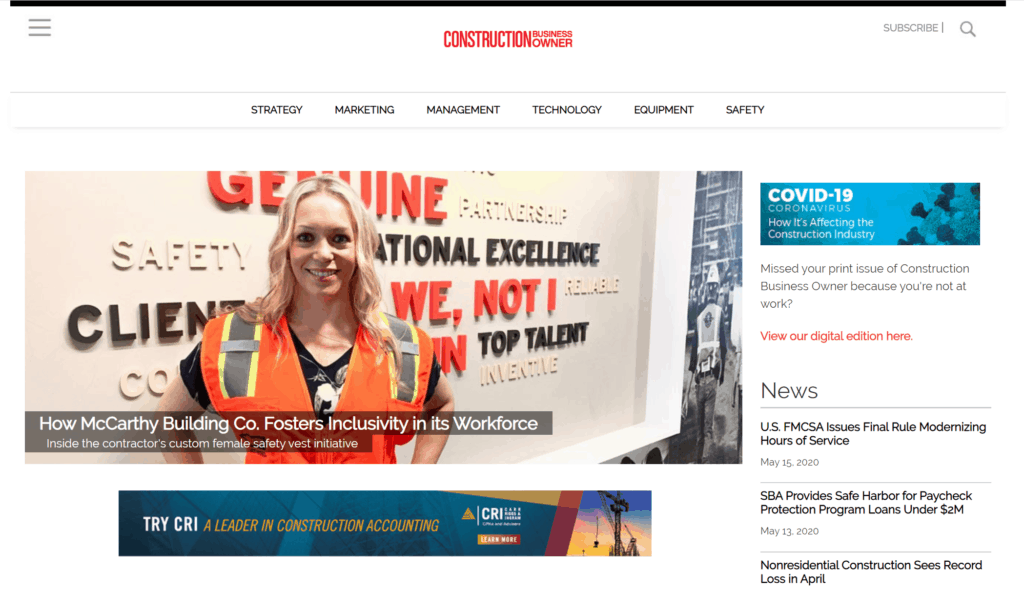 Construction business owner focuses on how you can manage your business better and strategies and techniques to implement. Building a construction business can be a challenging endeavour so getting assistance about emerging practices can be helpful.
The websites in our next category keep us all up to date on the goings on and happenings within the construction industry. Given how fast projects and companies change this can sometimes be a challenging task. What are the top construction industry news blogs?
The top construction industry news blogs are:
Construction Dive
Construction Junkie
ENR
These top contenders break down as follows:
Construction Dive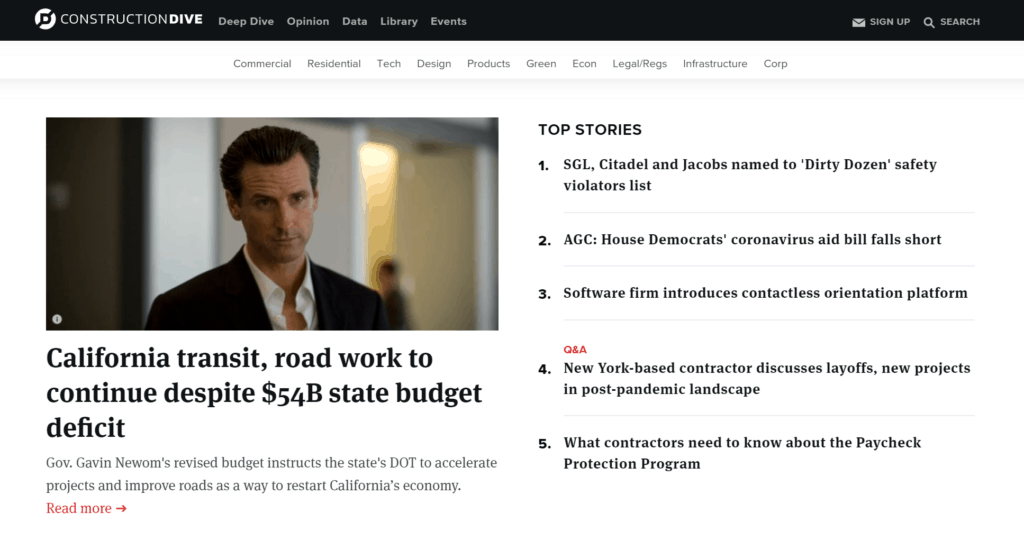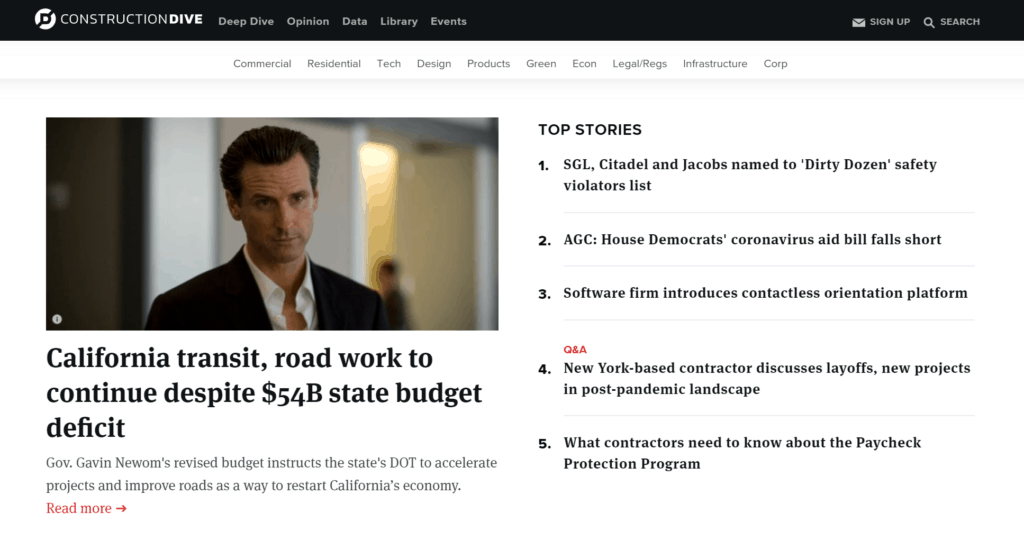 This list wouldn't be completed without adding Construction Dive. Regularly updated on current events in the construction industry this blog is followed by many and considered one of the best resources.
Construction Junkie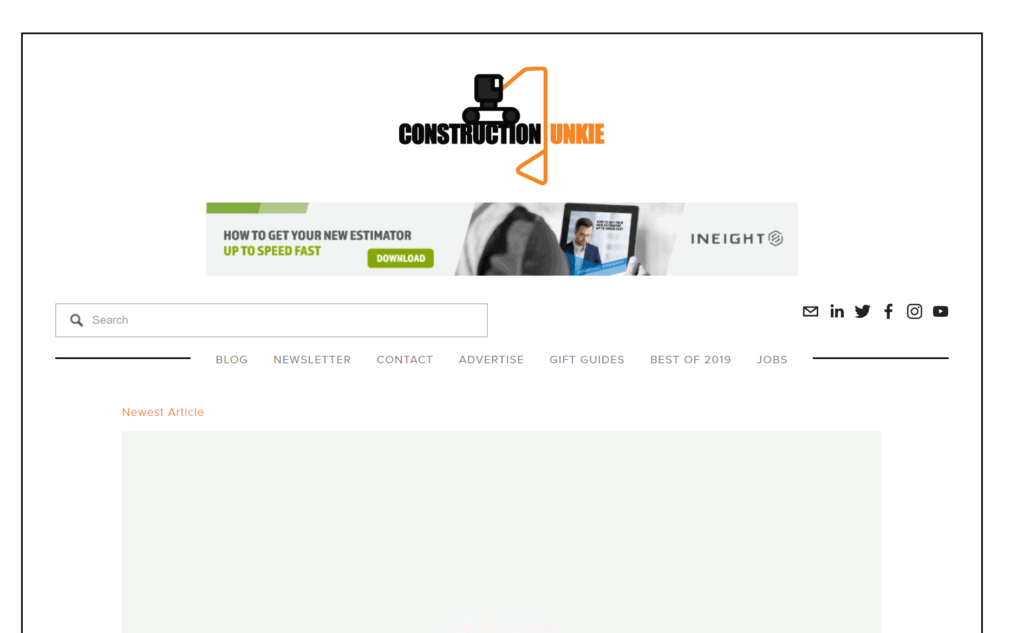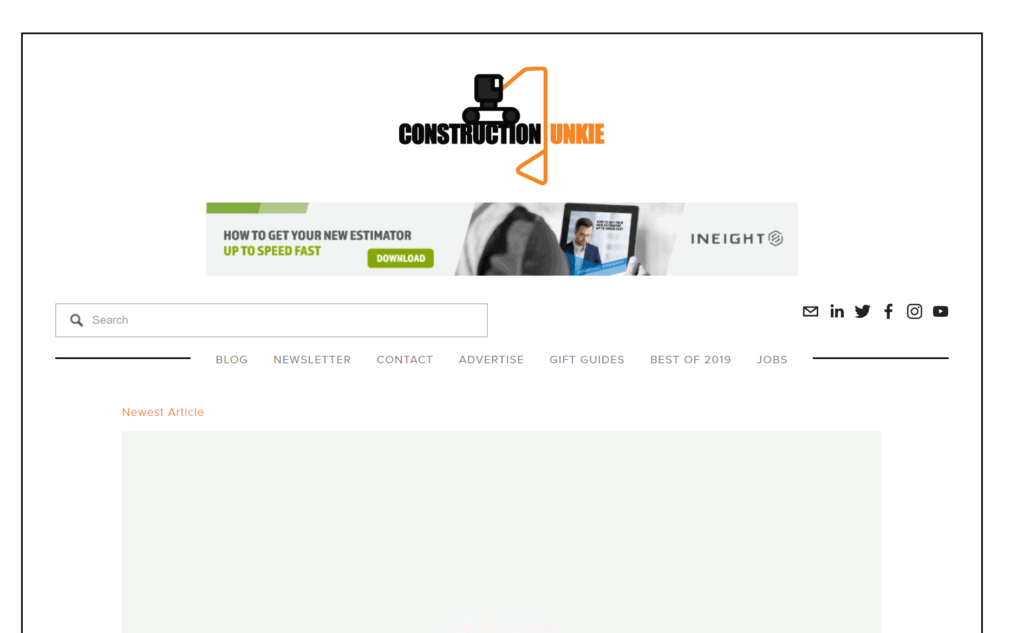 Construction junkie doesn't focus on one subject in particular. The love is spread across the industry, they have a lot of good articles on current events, projects and major issues facing the construction industry.
ENR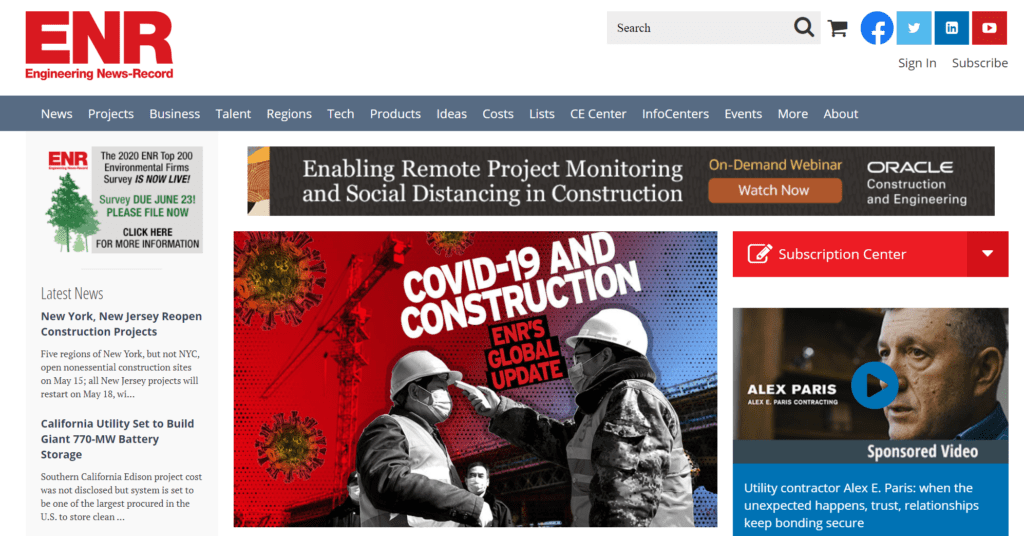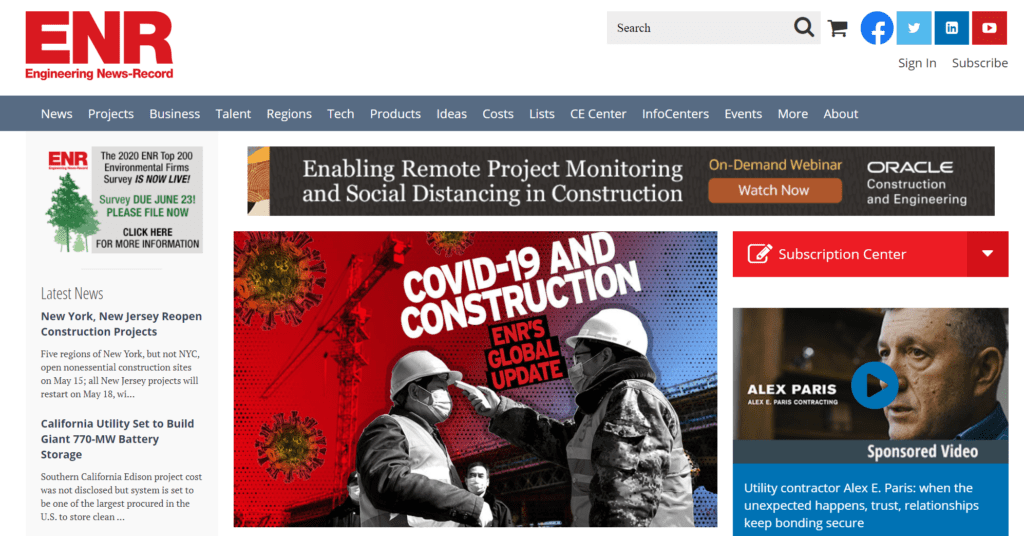 ENR is one of the largest publications for the engineering and construction industries. It focuses on bringing the latest construction news throughout the planet to your finger tips and is one of our top construction blogs.
Construction technology and techniques are changing at a rapid pace in our current climate. Developing faster than projects or companies, these blogs keep us up to date on the changes and help to provide professional insight into both. What are the best construction technique and technology blogs?
The best construction technique and technology blogs are:
Conapp Guru
Constructech
Lean Construction Blog
Let's Fix Construction
We've broken down each of the best construction technique and technology blogs below for you. Make sure to check each one of them out!
Conappguru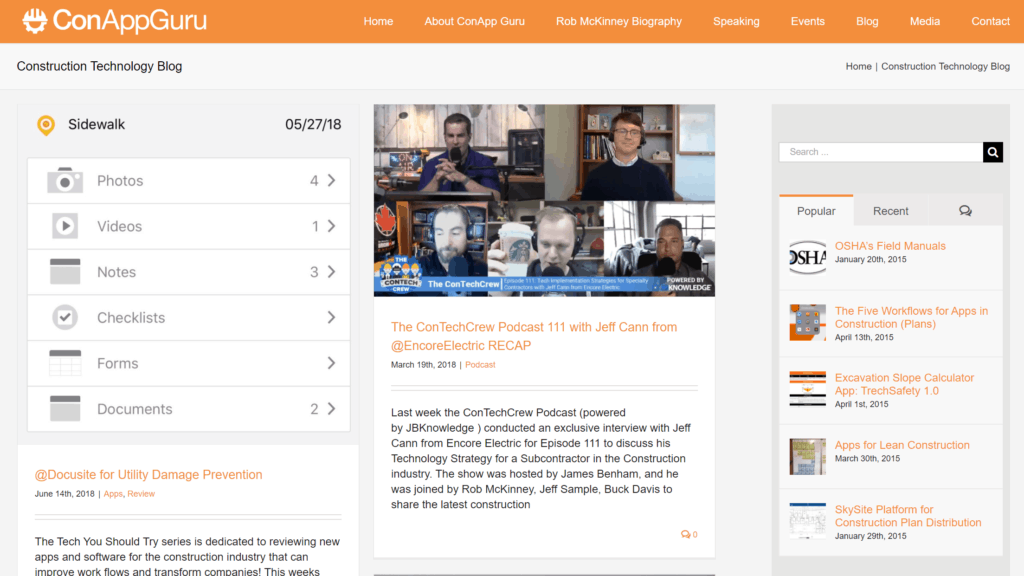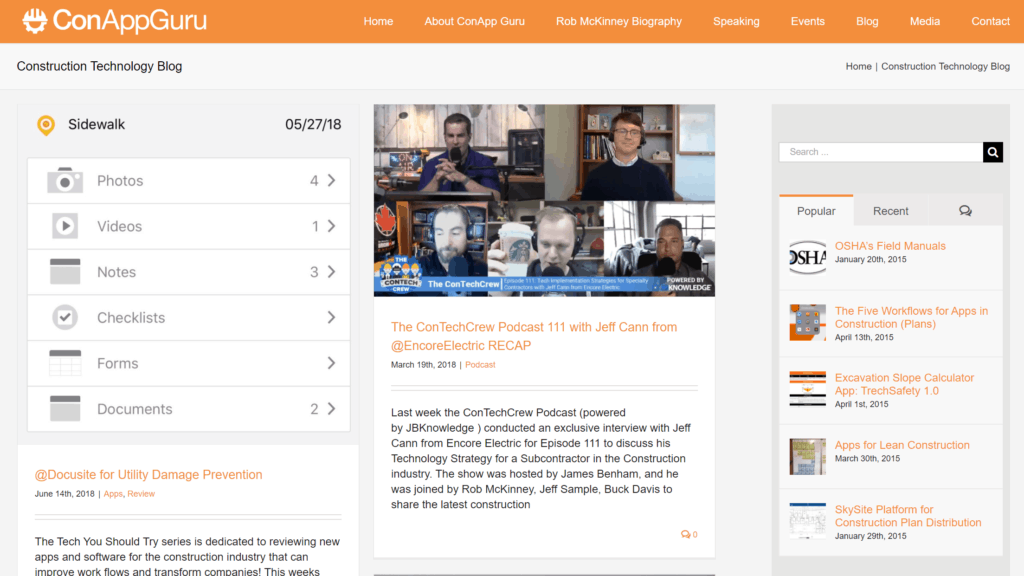 This blog focuses on construction technology which if you're anything like us you can't get enough of! They feature a regular podcast which reviews software, equipment and other new tech coming into and out of our industry.
Constructech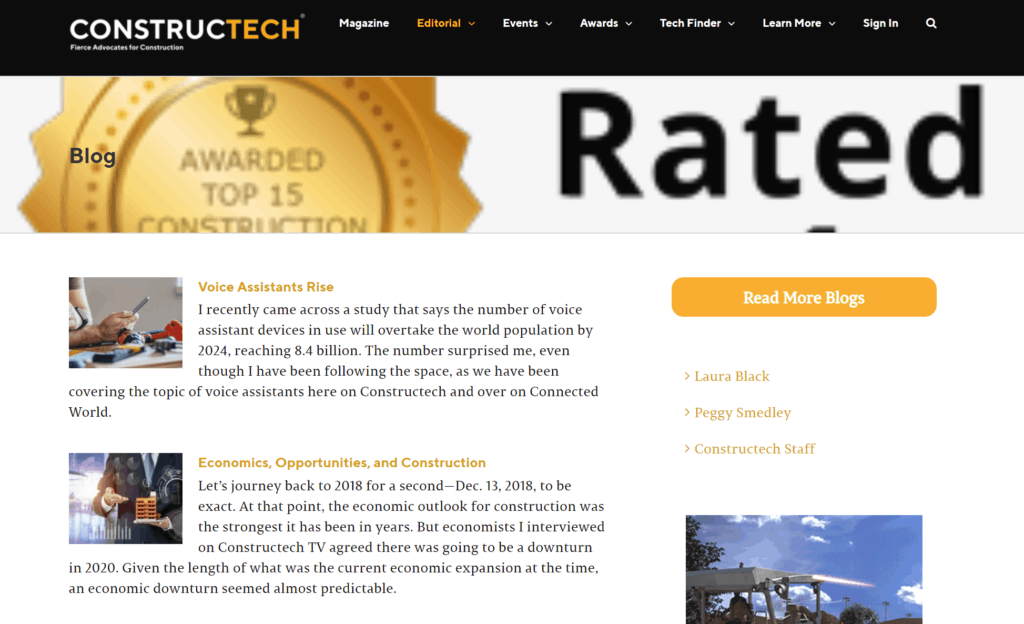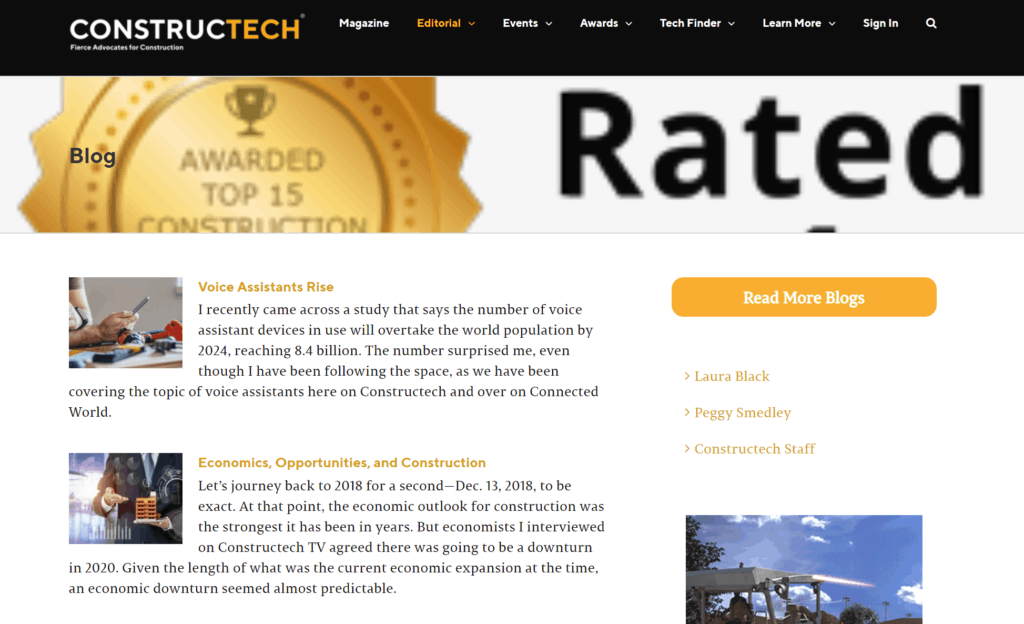 Want even more technology in your life? Constructech is another technology blog and one we read regularly. Staying on top of changing trends is important and constructech can help you do so.
Lean Construction Blog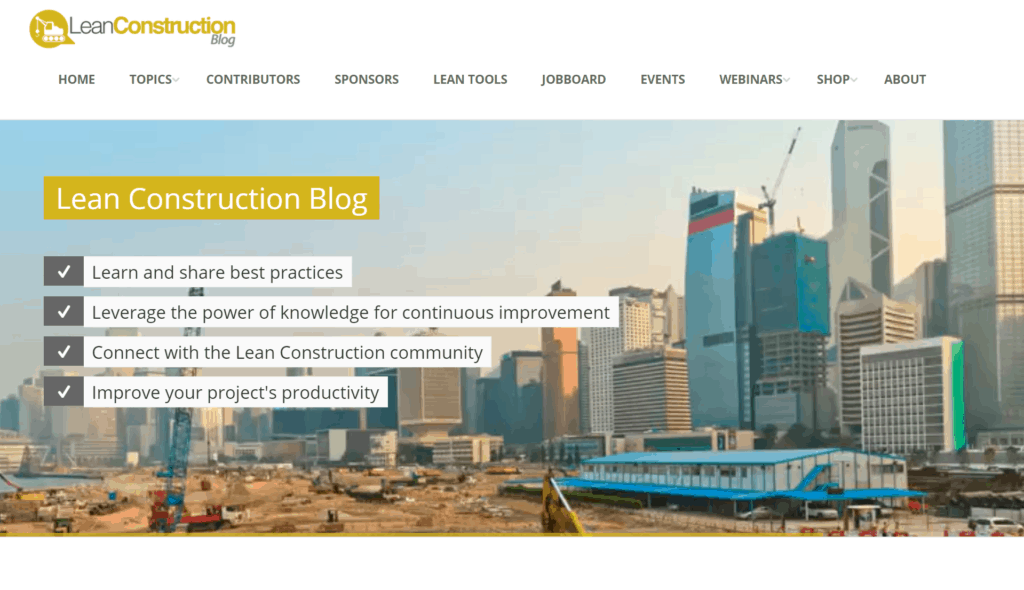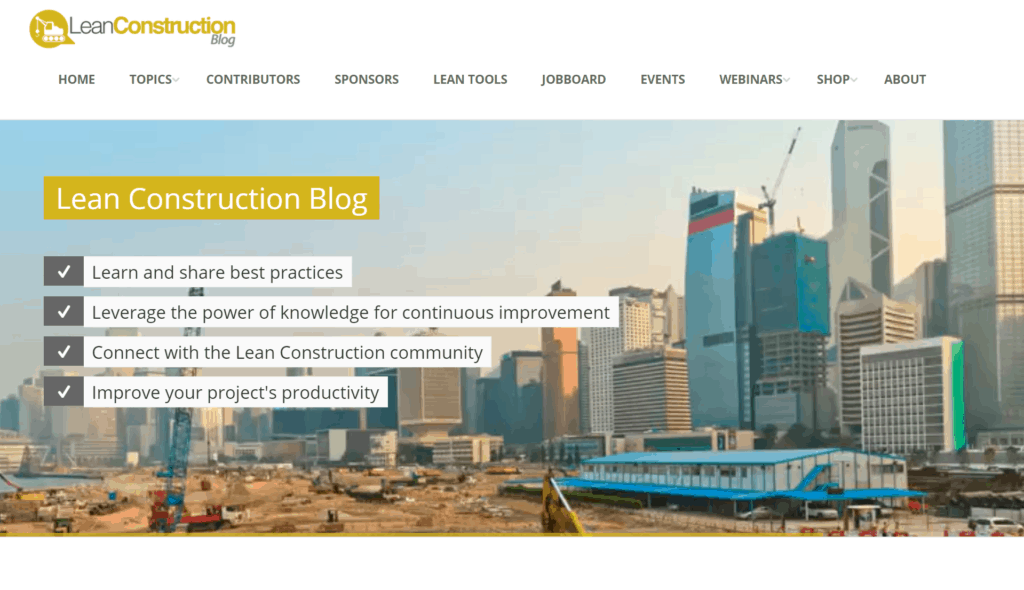 Lean construction is one of the buzz words in our industry right now (we've even done an article on it). Lean Construction blog focuses on the methods and practices that are at the leading edge of lean construction practices.
Let's Fix Construction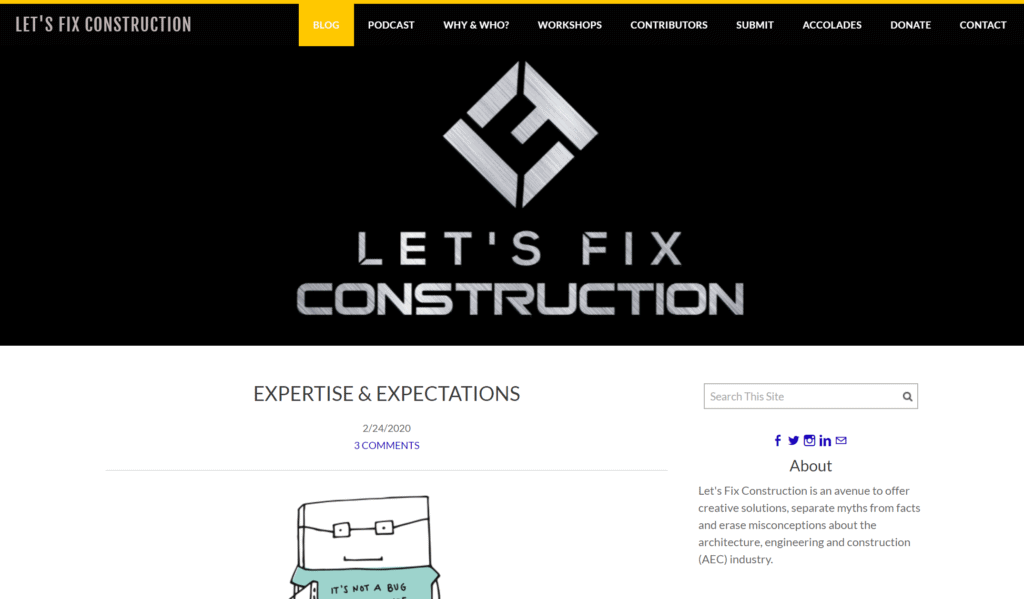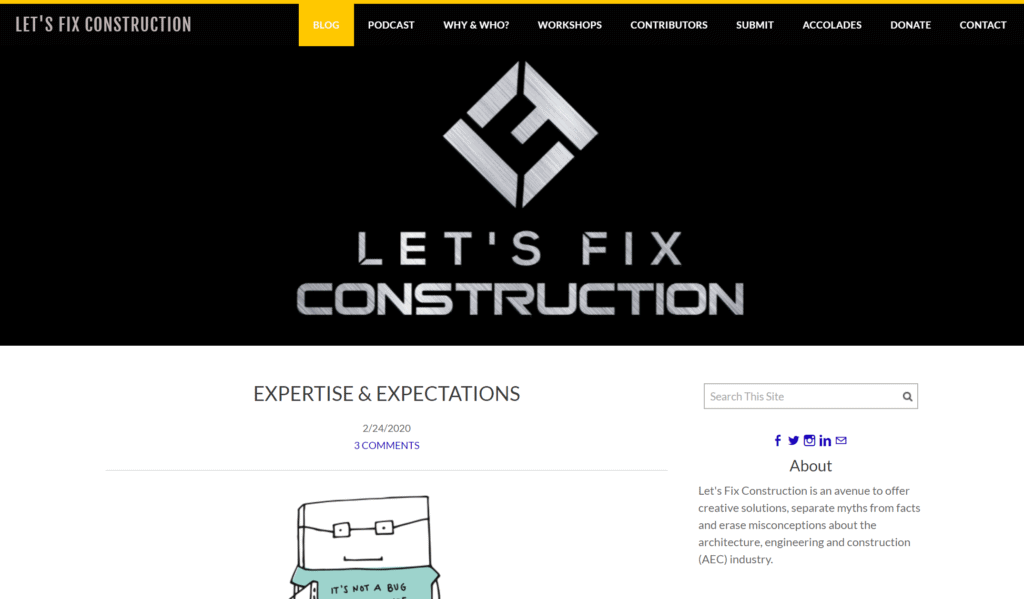 Construction is full of mis-information, Let's Fix Construction brings together professionals from around the industry to help fix it. This blog focuses on calling out processes that are incorrect and walking through correct ones. Learn construction the right way.
Top Construction Company Blogs
Many of the large companies within the industry are starting to develop blogs to help support the industry. In other industries sharing information is a common thing, in past years the construction industry has been hesitant to do this.
The below are the companies that are leading the way with the top construction company blogs:
Geniebelt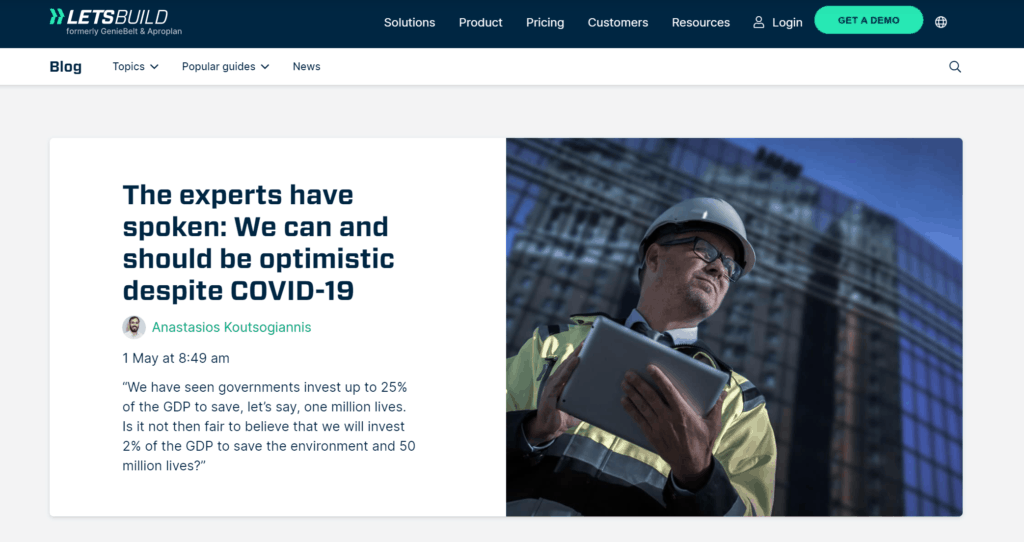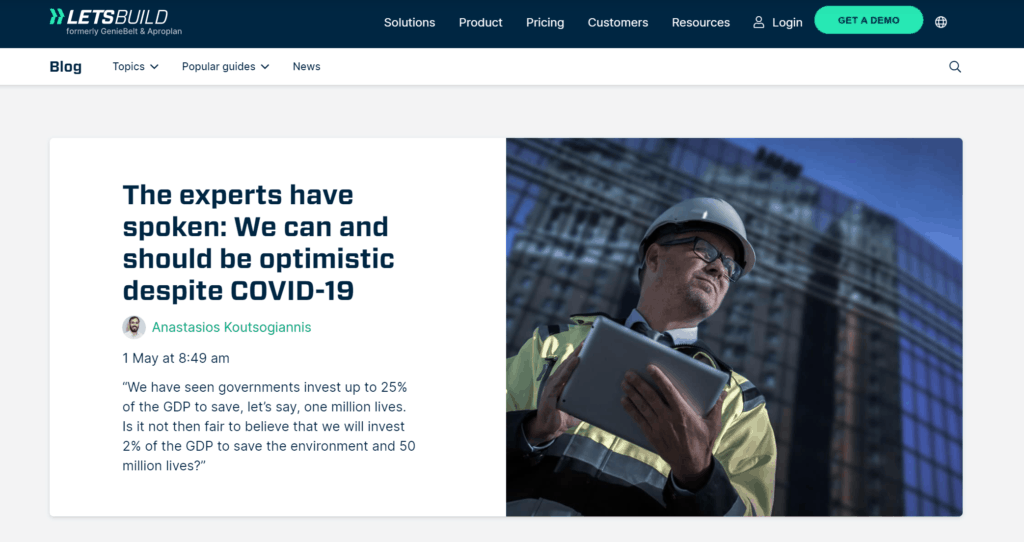 Is actually a task and project management software for construction sites but they also run a really great blog. They regularly post up top date articles on different subjects in the construction industry ranging from the labour shortage to starting your own construction company.
---
Plangrid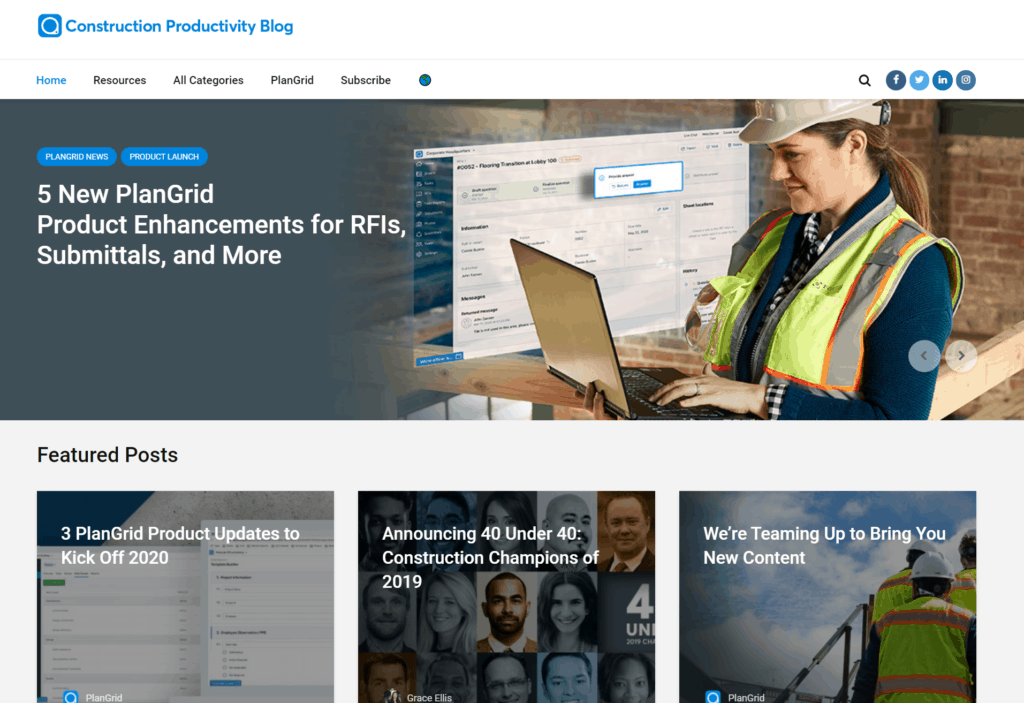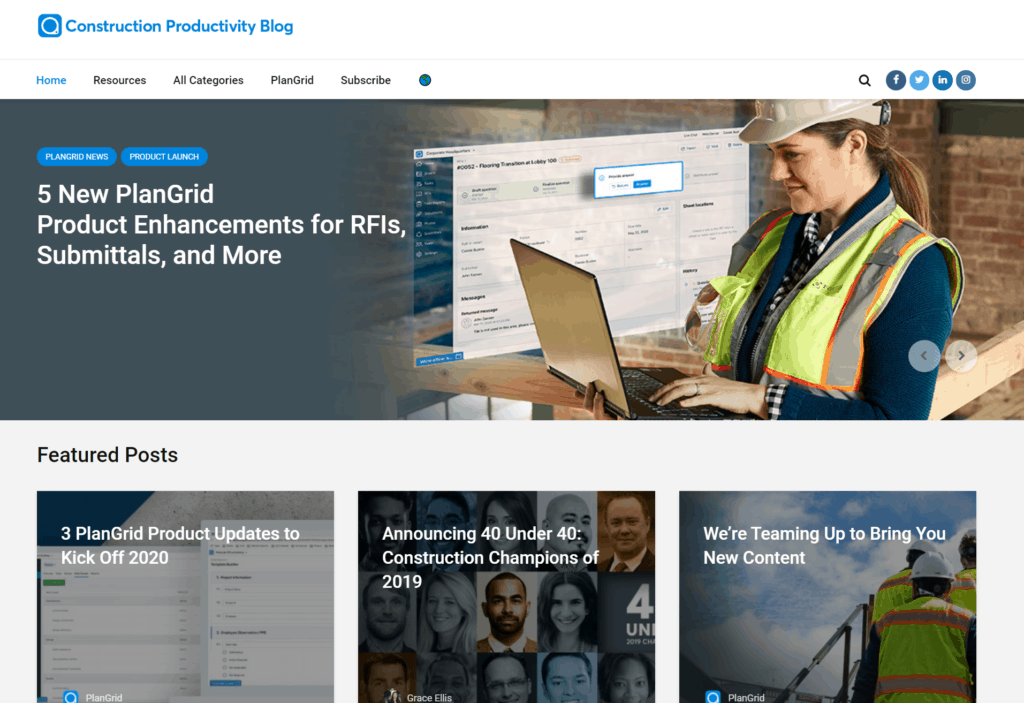 Plangrid is an online construction management platform and one of the best parts about their website is their informative blog. The articles range from news to advice and best practices to emerging technologies.
That's it for our wrap up on the top construction blogs. If you'd like to submit yours for consideration hit us up in the comments below or email us at webmail@cnstrctr.com.