Xtreme's new XR1585-C reaches higher than any other fixed-boom telehandler in the world.
The XR1585-C has a maximum lift height of 85 feet. The next-tallest telehandler is the Magni HTH 50.14 – at 45 feet 10.8 inches, according to Equipment World''s 2021 Spec Guide.
The new rough-terrain telehandler has a 67-foot forward reach and a load capacity of 15,000 pounds.
Xtreme adds that this is its first telehandler with a five-section boom. Another first for the tallest telehandler is a new optional operator station positioned on the back of the carriage that enables the operator to travel with a load at height to increase control when placing the load. While in the station, the operator uses a wireless control pendant to operate the boom.
The telehandler and concept carriage were both unveiled at this week's World of Concrete in Las Vegas. The operator station would be sold as an option.
Xtreme's operator station concept, which will be an option for the XR1585-C, enables the operator to control the boom while traveling at height. The station is attached to the telehandler's carriage.XtremeThe XR1585-C can handle a variety of attachments, including pole grapples, sling mounts, truss booms, buckets and work platforms, with hydraulic flow of 49 gallons per minute and 4,000 psi of pressure. Carriage options are fixed, fork positioning, swing or side tilt.
The model's chassis features a new design that is 8.5 feet wide and has a stowed height of 10 feet 1 inch. The telehandler has a turning radius of 16 feet 8 inches. It also comes with wide-stance outriggers.
It runs on a 173-horsepower Cummins diesel engine. The fuel tank can hold 100 gallons.
Operators get 360-degree visibility from the cab, the company says. Options include open, enclosed, or enclosed cab with heating and air conditioning. The machine also has a fully rated boom lift point and long-life boom rollers for smooth operation, according to Xtreme. The company offers various tires, fork tines and options, including telematics.
Xtreme says it plans full production of the XR1585-C by the end of the year.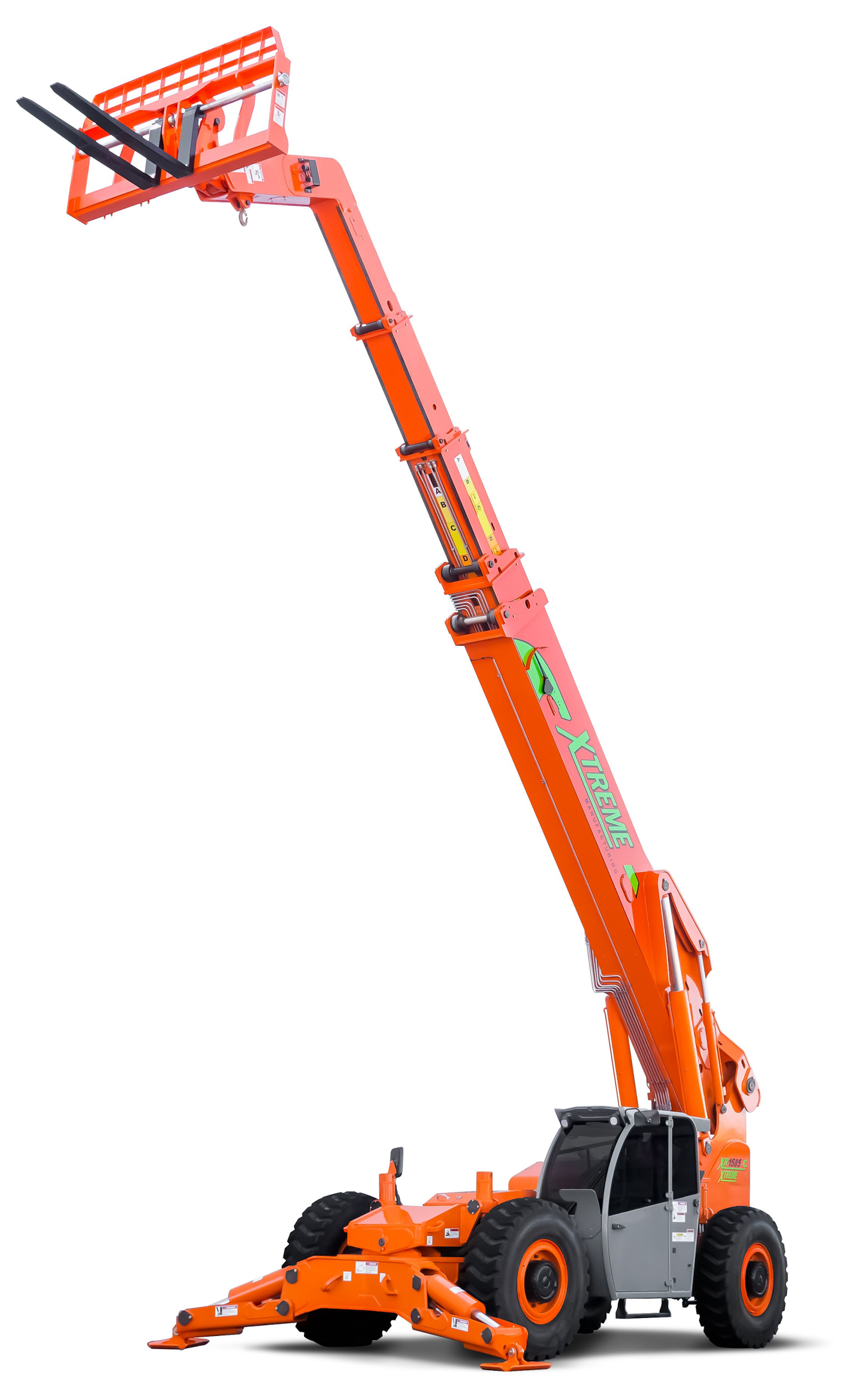 The boom on the Xtreme XR1585-C can extend up to 85 feet high, making it the world's tallest telehandler.Xtreme